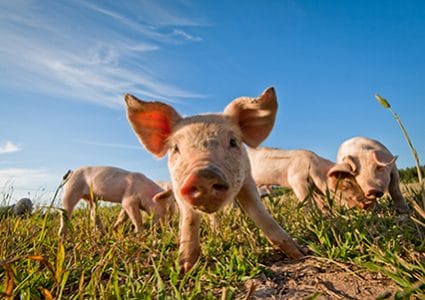 FOR OVER 30 YEARS HUEBER L.L.C. has been providing the area with nutrition products and service. We continue to grow and serve those in the swine industry with up to date knowledge and leading edge nutritional inputs to help maintain the optimal performance in combination with the best cost feed.
With our state of the art feed mill we can deliver the highest quality products at some of the lowest costs to our customers. We value and service clients of all sizes. With a team of dedicated mill staff and the best delivery drivers in the business we will treat your order with the utmost importance.
It is our privilege to serve those in the pork industry with swine feed. We continue to educate ourselves and network with producers in order to maintain the highest standards of information and service to our clients. We know first-hand the challenges and rewards of producing pork, that is why we work so hard to help in our clients success.
HUBBARD SWINE FEED
Our mission at Hubbard Feeds is to provide high quality swine products and programs, that help our customers achieve business success and personal satisfaction.
We Believe In:
A coordinated research program that delivers cost effective products
A responsive technical staff that effectively transfers new technology to our customers
A knowledgeable, well trained sales staff that is valuable to their customers
A strong dealer network that provides the right service to its customers and supports Hubbard Feeds nutrition programs
Breeding Herd
Today's highly productive sow requires a feeding program that will maximize born alive, improve weaning weights and the number of pigs weaned. We work closely with our customers to monitor feed intake and understand the genetic potential of their sow herd so that we can improve sow longevity and the pounds of saleable pork.
Nursery
No other phase of growth and development is as critical as the starter period. The number one objective for newly weaned pigs is feed intake. Anything that can be done to improve feed intake will improve ADG. Hubbard Feeds has placed added focus on gut health and its influence on performance. Successful weaning with minimal stress, a smooth transition to dry feeds and early weight gains set the foundation for efficient growth of the pig all the way until market.
Finishing
Hubbard Feeds is committed to providing nutrition programs, that help you optimize performance and efficiency through the use of high quality, palatable ingredients. Swine nutrition programs are designed using the latest technology based on net energy and digestible amino acids for proven increases in production, performance, and efficiency.