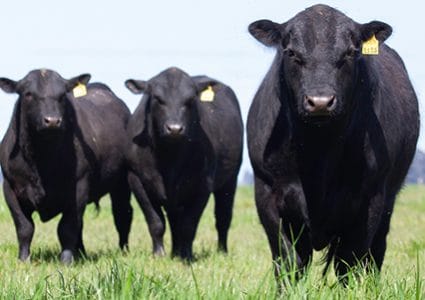 At Hueber Feed, LLC, we understand that your cattle operation needs a feeding program to work with your goals. Whether you are a seedstock producer raising and selling breeding cattle, or a cattle feeder developing market animals in a finishing program, we will work with you and our nutritionist to formulate the proper diet for your cattle so they will perform to their highest potential. Our capable team is ready to help you custom blend your cattle's nutrition program.
Feedlot
We at Hueber LLC know that there is a lot of risk in feeding cattle. That's why we have developed a feedlot program to help you get the most out of your cattle from start to finish.
We will work with you and our nutritionist to formulate the proper diet for your cattle so your cattle will perform to their fullest potential. Hueber's Feedlot Consultant will take feed samples of your by-products, hay, and bunk samples to make sure we are providing a consistent diet to your cattle. We are able to custom blend your supplements to balance your cattle's diet.
Our feedlot consulting nutritionist will work with you on your implant strategies to help you get the most possible gain from your cattle and to get them to market sooner. They will also formulate your cattle diets to get them started off right and start gaining weight the day they arrived in your feedlot.
Hueber's has state of the art computer software to run projection on your cattle so you know how your cattle should perform and so you know your breakevens. And when you sell your cattle, Hueber's will be there to help you close out your pens.
Hueber's feedlot consulting nutritionist has a P.H.D. in beef cattle nutrition, with years of experience specializing in the feedlot, working with some of the largest feedlots in the country feeding colored cattle and Holsteins.
Hubbard Beef
Modern beef production requires a full range of product options but just as importantly, it requires the know-how to ensure that the products work. The Hubbard beef program strives to provide both products and services, and strives to accomplish our objective of providing "Products and Answers that Work®."
Cow/Calf
Natural Feeding
Feedlot
Show Animals
Stocker
Tips & Tools
Hubbard Dairy
Maintaining a successful dairy operation can be challenging. Hubbard Feeds provides you the assurances you need, including proven nutritional strategies for increased milk production, better herd health, increased reproduction efficiency, and easier to manage operations.
Lactating Cow
Dry Cow
Calf & Heifer
Tips & Tools
Contact Hueber Feed!
For more information, visit Hubbard Feed's main beef and cow calf section at hubbardfeeds.com. Contact Jake Pierce, our Beef and Cow-Calf Specialist at 815-761-7415 or by email. For Show Feed, visit our Show Feed page, or contact Matt Hueber at 815-761-7423 or by email. Call our main office at 815-384-3750.